Info
Bottom of the page

Welcome!
Town of Hvar
Hvar is the town with rich cultural and historical heritage, positioned in the Middle Dalmatia,
with the island of "Galešnik" guarding entrance to the harbor. Island of Hvar, with about
2700 sunny hours per year, with monuments, fortresses and beautiful archipelago is a real
jewel in the Adriatic Sea. Nearby archipelago of "Resin Islands" is wrongfully called Hellish
Islands. They're named after tar - special resin. Croatian word for tar is paklina, and for
hell is pakao (adjective pakleni), so they're called Pakleni instead of Paklinski islands. You
can reach them by taxi-boat that goes every 30 minutes from main harbor or you can rent
a boat (for whole day).
Mild Mediterranean climate, aromatic plants (sage, lavender, rosemary, etc.), olive groves and
vineyards, picturesque bays (cove) and clear blue sea makes it one of the most attractive
places for vacation. According to "Traveller" magazine Hvar is one of the 10 most beautiful
islands in the world (article "The ultimate island finder" from May, 1997).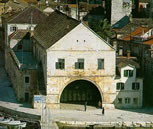 Hvar also has the oldest communal (municipal) theater in Europe (founded in 1612.) and beautiful
main square - Pjaca (biggest in Dalmatia). Only 200 meters from our house is renaissance
monastery with museum and garden, that has a great view on Paklinski islands. You can enjoy in
Dalmatian cuisine, various fish specialties and fine wine.
If you enjoy nightlife you have night bars, discotheques, pubs and open-air – cinema. Those
interested in cultural events can enjoy in concerts, theater shows and various summer cultural
manifestations. Also you can visit one of the restaurants that are offering a great array of
dishes. If you like peace and tranquility we suggest June and September, and August for
more dynamic and richer night-life.
Go on top

Accommodation

We offer accommodation (lodging) from May until October. We speak English, German,
Italian, Bohemian, Slovenian and of course - Croatian. Each room has a balcony, bathroom,
sea view and option to use a kitchen. Some rooms and apartments
have air condition.In the shade of big terrace you can have breakfast or dinner.
Apartments have bathroom, their own kitchen and terrace. Also we have parking place
for 6 cars. We offer wine from our vineyards, liquor (rakija), proshek and first grade olive oil.
Also you can buy lavender oil which is used both, in medical and cosmetics purposes.
No pets allowed.
Distances
Our house is just 100m from the sea, and nearest beach 150m , a restaurant is 130m away.
There are also two supermarkets nearby, and nearest is just 20m from our house. 30m east
is a diving center, and a little bit further a mechanic. In vicinity you can rent a boat, water-ski
or a scooter. In the center you have other means of recreation. You can reach city center
by feet in 6 min. or by car in 3 min.
Apartments and rooms have 3 stars. Booking is necessary and for details about prices
send us an mail-a or call us on the cell phone. Rooms have an option to
use a kitchen (only for our guests).
Page is updated regularly so you can expect more information, soon.
Go on top